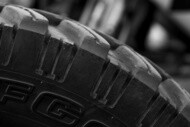 1. All references to the term "Site" are to this Internet Site; the terms "you" and "your" refer to a visitor of this Site and the terms "BFGoodrich", "us", "our" and "we" refer to BFGoodrich Malaysia Sdn. Bhd. and its affiliates, sister and parent concerns.
2. BFGoodrich is committed to maintaining the privacy of our customers or persons visiting our Site. This page sets out our policy on how we manage "personal information". This policy is intended to help you understand how we manage the personal information that we collect, hold, use and disclose, how you can seek access to and correction of that information and, if necessary, how you can make a complaint on our handling of that information.
3. Types of personal information being collected and held
You may be asked for personal information if you want to take advantage of specific services we offer such as, but not limited to, e-mail enquiries (contact us), consumer or tyre reviews, survey, social sharing features (such as the Facebook "Like" button or other tools) or specific promotions.
This Site does not automatically capture or store personal information, other than logging the user's IP address and session info such as the duration of the visit and the type of browser used. This is recognised by the web server and is only used for system administration and to provide statistics which we use to evaluate use of the Site.
Parts of our Site use cookies to store information on your computer to enhance your experience of our Site and to store preferences and session information. Your experience of sections of this Site may be degraded if you do not enable cookies to be stored on your computer.
4. Cookies
(a) About Cookies:
A cookie is a small file saved on a user's computer to help store preferences and other information that is used on webpages that they visit. Cookies can save a user's settings on certain websites and can sometimes be used to track how visitors get to and interact with websites. It's important to clarify that cookies do not collect any personal data stored on your hard drive or computer. To find out more about cookies, visit www.allaboutcookies.org.
(b) How BFGoodrich uses Cookies
BFGoodrich works with carefully selected and monitored partners who help us use cookies to provide site analytics. Analytics help us to understand how visitors are interacting with a site in order to optimise the site to enhance visitor's experience. Also some of these partners may set cookies during your visit to support customisation of adverts that you may see elsewhere on the Internet.
(c) Why does BFGoodrich use cookies?
BFGoodrich is constantly searching for new ways to enhance its website(s) and improve the service it delivers to you. BFGoodrich uses different types of cookies, as mentioned below. Some of these cookies require the online user's prior permission (advertising cookies) before they can be installed on the user's device.
(d) How to delete Cookies
You have control over these cookies: you can block them, destroy them or manage the cookie settings.
If you would like to disable / block our cookies from your hard drive, you can find out about removing them at http://www.allaboutcookies.org/manage-cookies/index.html. In addition you may refer to the information set out below. Please note that the information set out below is only for guidance and recommendation purposes only. BFGoodrich shall not be liable for any consequences resulting from the guidance set out below.
(i) On a computer
There are two ways to uninstall cookies. The first way is to use your web browser to see the cookies already installed on your computer and delete them either individually or all at once.
 

Apple Safari: "Privacy" section in the "Preferences" menu, area dedicated to "Cookies and other site data";
Google Chrome: "Privacy" section in the "Settings" menu, subsection "Content settings", area dedicated to "Cookies and site data";
Microsoft Internet Explorer: "Tools" menu, "Internet Options" section, then "General" then "Browsing History", then "Settings", "Temporary Internet Files and History Settings" window, and finally "View files";
Mozilla Firefox: "Tools" menu, "Options" section, "Privacy" subsection, dedicated "Remove individual cookies" functionality.
You can also delete cookies manually by following the steps below:
Go to your workstation and select the Windows folder in C:\
Open the "Temporary Internet Files" folder and select all the file (CTRL+A)
Choose the "delete" option
You can also configure your web browser to block cookies or display a warning before any cookies are installed. The steps to follow vary from one browser to another, but you will find instructions in the browser's "Help" menu. The browser you use to access BFGoodrich websites can be configured independently on each device.
 (ii) On a smartphone or tablet
Cookies can be removed or deleted as follows:

Android: Go to the "Privacy & security" section in the "Settings" menu. From there, you can choose "Clear cache", "Clear passwords", "Clear all cookie data" and "Clear form data". You can also configure these functionalities not to save cookies.
Google Chrome: in the "Settings" menu, go to "Advanced options", then "Clear browsing history", then the data you wish to delete.
Apple browser under iOS 8: "Settings" button, then in the "Safari" tab, select "Block Cookies" and choose one of options available: "Always Allow", "Allow from Websites I Visit", "Allow from Current Websites Only" or "Always Block". Under iOS 7 or earlier, you can choose between the options "Always", "From third parties and advertisers" and "Never".
Uninstalling or blocking the cookies used on BFGoodrich websites can impede or even prevent your use of these websites.
By using our Site, you agree to the use of cookies and other technologies as set out in this policy. You are free to block our cookies & adjust your browser settings accordingly.
(e) Types of cookies BFGoodrich uses
BFGoodrich may use one or several of the cookies discussed here.
Cookies can be transient (a "session" cookie), in which case they last only as long as your browsing session on the website, or persistent, with a longer lifespan depending on the lifespan assigned to them and your browser settings. There are many different types of cookies. They can be classified into four broad groups as follows:
 (i) Strictly necessary cookies
The cookies strictly necessary for the provision of an online communication service over electronic means are essential for the Site to work properly. Disabling them will make it very difficult to use the Site, or even impossible to use the services it offers. These cookies do not retain any information about you after you leave the website. They are used, for example, to identify devices for routing the communication, to number the "packets" of data in order to route them in the right order, and to detect transmission errors or data losses.
(ii) Functional cookies
Functional cookies are strictly necessary for the provision of an online communication service expressly requested by the user. They provide a user-specific functionality. If these cookies are uninstalled, it will prevent the service being provided. Functional cookies can collect personal data. For some cookies, this information can be retained after the end of your browsing session on the website, and sent to partners, solely for the purposes providing necessary services. They include, for example, cookies that save user preferences such as language, "user session" cookies (that identify the user when he or she navigates on several pages, and which retain data only for the duration of the browser session), and "shopping basket" cookies.
(iii) Audience measurement cookies
Audience measurement cookies are used to recognise visitors when they return to the Site. These cookies store only an online user "identifier" (specific to each cookie) and are not, under any circumstances, used to collect nominative information about visitors. They record the pages visited, the length of the visit and any error messages, so that we can improve the browsing experience on BFGoodrich websites.
Audience measurement cookies can be installed and managed by partners, but we limit their use to the statistical analysis requested.
(iv) Targeted advertising cookies and social media tracking cookies generated by social media sharing buttons
Targeting and tracking cookies allow third parties to provide services, mainly advertising, and enhance their effectiveness. These cookies can retain the web pages and websites you visit, and collect personal data, primarily the IP address of the device used by the online user. The information collected can be shared with third parties.
For example, these cookies allow BFGoodrich's advertising departments to display advertisements that match your centres of interest, based on your browsing history on BFGoodrich websites, or limit the repetition of advertisements. These cookies require your permission: a clearly visible banner will appear on the website page to request your permission to install these cookies.
BFGoodrich and third-party providers, including Google, use proprietary cookies and third-party cookies in conjunction to obtain information, and optimise and display advertisements based on the user's visits to the Site. BFGoodrich and these providers also use these two types of cookies to determine the relationship between the visits recorded on the Site and the advertisements viewed on the screen, other uses of advertising services and the interactions with the advertisements viewed and the advertising services. Lastly, BFGoodrich and these providers use these two types of cookies to remember your centres of interest and your demographic data with a view to offering you targeted advertising.
BFGoodrich uses what are known as social plug-ins (which we will refer to below as buttons) to link back to social networks such as Facebook, LinkedIn and YouTube.
When you visit our Site, these buttons are disabled by default, i.e. they do not send any information to the social networks concerned unless you do something. Before the buttons can be used, you have to activate them by clicking them. The buttons remain active until you disable them again or delete your cookies. Once activated, the system establishes a direct link to the server of the social network selected. The content of the button is then transferred directly from the social networks to your web browser, which integrates them into the website you visited.
Once you have activated a button, the social network concerned can collect data, whether or not you use the button. If you are logged into a social network, the network can attribute your visit to the website in question to your user account. When you visit other BFGoodrich websites, your visit will not be linked up with the initial website until you activate the corresponding button on these websites too.
If you belong to a social network and don't want the social network to establish a link between the data collected during your visit to our website and the information recorded when you registered, you must log out of the social network in question before activating the buttons.
Please note that we have no influence on the volume of data collected by the social networks through these buttons. To know the volume of data collected and the reasons for collecting it, as well as how the information is processed and used by the social networks, and your rights and configuration options for protecting your privacy, please read the privacy terms of the social networks concerned.
Our Site may use the social network buttons below:
facebook.com, is operated by Facebook Inc., 1601 S. California Ave, Palo Alto, CA 94304, USA ("Facebook"). You will find a list of Facebook plugins and thumbnails at the following address: http://www.developers.facebook.com/plugins. For more information about Facebook's privacy policy, please visit: http://www.facebook.com/policy.php. You can also block Facebook social plugins with add-ons for your browser, for example with the "Facebook Blocker".
Twitter feeds are managed and provided by Twitter Inc., 1355 Market Street, Suite 900, San Francisco, CA 94103 USA. You will find the code of conduct for developers at the following address: https://dev.twitter.com/overview/terms/agreement-and-policy. For more information about Twitter's privacy policy, please visit: https://twitter.com/privacy?lang=fr.
linkedin.com is operated by LinkedIn Ireland, Attn: Privacy Policy Issues, Wilton Plaza, Wilton Place, Dublin 2 Ireland. You will find a list of LinkedIn plugins and thumbnails at the following address: https://developer.linkedin.com/. For more information about LinkedIn's privacy policy, please visit: https://www.linkedin.com/legal/privacy-policy
By using our Site, you agree to the use of cookies and other technologies as set out in this policy. You are free to block our cookies & adjust your browser settings accordingly.
5. Holding and protecting your personal information
Personal information submitted by you may be stored in physical or electronic form either on our own systems or the systems of our service providers. The personal information is protected using appropriate safeguards. We also require our service providers to follow strict security standards and bind them with obligations of confidentiality when holding and processing any personal information.
6. Purposes for which we may collect, use and disclose your personal information
You may be asked for personal information if you want to take advantage of specific services we offer such as, but not limited to, e-mail enquiries (contact us), consumer or tyre reviews, survey, social sharing features (such as the Facebook "Like" button or other tools) or specific promotions. In each case we will only use the personal information you provide to deliver the services you have told us you wish to take part in. You will be given an opportunity to opt out of further contact if you wish. If you would prefer that we not collect any personally identifiable information from you, please do not provide us with any such information.
We may share your personal data with third party suppliers or service providers. These suppliers and service providers are contractually obligated to keep your personal data confidential and secure, and they are required to use your personal data only for the needs of the services that were entrusted to them.
7. Disclosure of personal information to third parties
We receive services from other BFGoodrich Group companies and external service providers, some of which may be located outside your country of residence (see the additional section below titled "Overseas Disclosures"), and your information may be provided to them for this purpose.
Third parties to whom we disclose your personal information may include:
related BFGoodrich group companies outside your country of residence;
persons to whom disclosure of your personal information is necessary in order for us to provide or manage any services or transactions requested by you including:
• service providers, such as mail services, delivery agencies; service and support agencies; customer service agents
• service providers to whom we subcontract any tasks under our agreements (if any) with you
legal, audit, settlement, valuation and any other professional service providers under a duty of confidentiality to us
analytics and market research service providers who provide marketing, market research, or other related services relating to promotion of our business;
insurers, assessors and underwriters
fraud reporting agencies
any potential investors, purchasers or persons wishing to acquire an interest in any part of our business from time to time; and
any person to whom we are under an obligation to make disclosure under the requirements of any law, rules, regulations or guidelines including, regulators, governmental bodies or industry recognised bodies (all or some of which may be in or outside your country of residence)

8. Overseas Disclosures
As a result of the management structure some recipients of personal information within BFGoodrich may not be located in the country of your residence. While it is not reasonably practicable to list all of the countries to which your information may be transmitted from time to time but such countries are likely be those where BFGoodrich has offices globally. A list of those countries is available through the BFGoodrich website at www.bfgoodrich.com. Such organisations may in turn be required to disclose information we share with them under a foreign law.
When we do share information as above, we remain responsible for that disclosure and will ensure that your personal information is handled according to the requirements of law.
9. Requesting access to your personal information
You are entitled to access personal information we hold by contacting our privacy officer (contact details below). Our endeavor will be to respond within 30 days of such a request.
10. Requesting correction or deletion of your personal information
You are entitled to request that we correct/rectify or delete information that we hold about you. If you would like to do so please contact the privacy officer using the contact details below.
Any corrective action or deletion by us will normally be done within 30 days of a request. Any delay will be notified to you in writing.
Correction or deletion of information is provided free of charge.
11. Complaints and disputes
If you have any complaints or disputes relating to our compliance with privacy laws please contact the privacy officer (contact details below).
An acknowledgement of the complaint will be sent within 7 days of receipt. We intend to investigate complaints and resolve them within 30 days of receipt. If we cannot resolve your complaint within this period we will notify you as to the reasons for such non resolution and specify a date when we expect a resolution.
If we fail to deal with your complaint to your satisfaction you may refer the complaint to the appropriate privacy authorities in your country of residence.
12. Contacting Us
If you wish to find out more information, or raise any specific or general concerns about BFGoodrich and our Privacy Policy and practices please contact:
Name: Duy Pham
Email: Duy.pham@bfgoodrich.com
Address: Unit 901, Level 9, Uptown 2, No. 2 Jalan SS21/37, Damansara Utama, 47400 Petaling Jaya, Selangor Darul Ehsan, Malaysia